David Kollar is a guitarist/multi-instrumentalist from Slovakia. While his name might not be one you know, if you have listened to Steven Wilson's song Detonation or no-man's tune Love You To Bits (Bit 4), you have heard his amazing guitar work.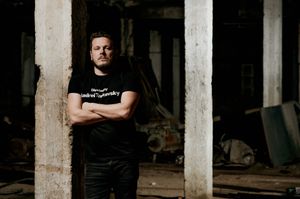 Mr. Kollar has his own wonderful music to present to the world. His latest album is called Sculpting in Time, where the energy of those guitar solos is focused into music of a more jazzy or modern classical nature but isn't restricted to those labels. 
This album opens with the track Tendre Lundi, a flowing guitar/trumpet interplay. The first steps of the journey begin here. 
The Path gives the listener a bit of dubby bass and effects paint the music. A rest stop on the journey, offering a different view of the sounds. 
A bit of poetry leads off the tune Prisoner of Time, and it carries the listener into intense guitar tonality – a challenge on this audio trip that ultimately arrives to a peaceful expanse of keyboards. 
The closing track, Balada for Jozef, features intercommunication between guitar and horn, a fond remembrance of what has been. 
In our world, everything is connected. We may not see the threads, but they are there. Many people view music from other parts of the world as different. The bedrock is the same, all musicians just add their unique fingerprints to it. 
Music is a universal that brings us together. 
Mr. Kollar's work here will capture your ears and carry them along. 
Give Sculpting In Time a listen.. 
Rating: 10/10 
Tracklist: 
1. Tendre Lundi 
2. At Dusk 
3. A.T. 
4. Episode 1. 
5. Sick Doll's Dream 
6. Episode 2. (Johan) 
7. Deeper to the Fog 
8. The Path 
9. Episode 3. 
10. Reflections 
11. Sunlight 
12. Prisoner of Time 
13. B. 639 
14. Balada for Jozef 
The Players: 
David Kollar – El. guitars, Ronroco, Guitalele, Electronics, Synth, Sound Processing, Bass, Vocal 12 
Erik Truffaz – Trumpet 1, 2, 12,14 
Arve Henriksen – Trumpet 5,10,12 
Pat Mastelotto – Poetry reading 12 
Christian Fennesz – guitar, synth, electronics 11